How beautiful is Bentley. Sorry, had to open this post with him. I look 12 but don't mind me.
Good Morning everyone! Happy Thanksgiving eve?
Lets just roll with it. What a better way to celebrate than for all the bloggers to share the food they have eaten.
Like we aren't going to eat enough tomorrow/this weekend, huh?
I don't know about you all, but my Thanksgiving won't be over till Sunday.
Lots of people to see, lots of traveling, and lots of food to eat.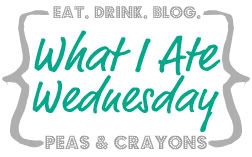 Well, lets focus on WIAW for now!
Thanks again, of course, to the wonderful
Jenn
for putting it all together!
Breakfast
After my fabulous run, I wanted nothing but something cold. Even after my cold shower. Only in Florida does this happen. I'm weird.
The best picture quality award goes to me! First time trying this yogurt, really good! I was actually surprised.
I mixed some of these inside the yogurt..
Well not the FULL fruit, but the insides. Seriously, so good and worth the time to get them out. They are like little bursts of pomegranate flavors with every bite.
I also had a banana and this PB on the side.
Lunch
Spinach, Kale, tempeh, chick peas, tomato, carrots, mushrooms, goat cheese, soy crisps.
Honey crisp apple. The best.
Dinner
Pork chop, sweet potato, brussel sprouts. My absolute fave veggies as of now. I love all veggies but I've been really diggin these. I can't get enough!
Favorite vegetable?
Have you ever opened your own pomegranate and ate the arils?
Favorite brand of peanut butter?
Just realized all those questions are about food.
Related posts: