Haaaaaapppyyy Hump Day! I really love Wednesday's because I have no class and it breaks up the days I do have class. College, I love you. (sometimes)
Before I get into the usual WIAW shenanigans, I wanted to share a treadmill workout I came up with yesterday.
I was feeling pretty sore from Monday's strength workout and I didn't feel like dealing with the sun and the traffic, so I opted for the treadmill.
Seems like it's been happening quite a bit lately, but I've come to embrace what I'm feeling.
I kind of just made it up as I went along and it worked out in my favor.
I went by miles instead of time and it felt like I finished super fast. Love that.
Repeat until you reach your designated mileage. Include a warm-up and cool-down if you'd like.
Now, back to the regularly scheduled Wednesday post.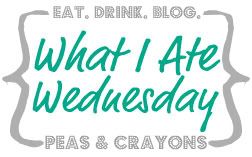 As usual, these are my eats from Tuesday.
Breakfast
Two rice cakes, protein frosting, banana slices, chia seeds. Coffee on the side.
I wanted something that I could easily digest so I could go to the gym within a reasonable time.
Lunch
I came back from the gym, showered, got ready, and was starving for lunch.
Salad: spinach, grape tomatoes, veggie burger, chick peas, sesame things? balsamic dressing.
I also had a piece of cheese toast while preparing the salad.
Okay this is an old picture, but it's a piece of brown rice toast and muenster cheese.
I only used a slice, but it looks like a looot of cheese because the bread is small and dense.
I also had a lemon Chobani on the side. One of my favorite flavors!
Dinner
I started preparing dinner the second I got home.
Tilapia, some chick peas, and roasted broccoli and carrots all over some brown rice. It's under there!
There we go. Such a great meal combo.
Snack
Since I had dinner so early, I needed a snack later on. I had cottage cheese with crushed pineapple.
Forgot to take a picture! But it's one of my favorite ways to eat cottage cheese.
What is your favorite source of protein to have for a meal?
How early do you eat dinner?
Favorite bedtime snack?
Related posts: