Today's WIAW is going to be a little all over the place. I have not taken pictures of my meals that have been eaten in one day only.
I HAVE taken pictures of meals over the past few days, which is still good since I've been in the middle of moving!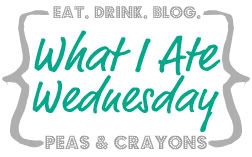 With that being said, here are some eats that include the weekend and this week.
As usual, head on over to Jenn's blog to check out all the other posts or join!
One whole egg with some egg whites, broccoli, and cheese, tomato, and avocado.
Starbucks to the rescue on moving day. Iced coffee <3
This is probably the ugliest picture of oatmeal ever. But, I made oatmeal with egg whites for the first time! There's also some cottage cheese in there and topped with peanut flour paste.
A recent snack I've been loving:
A scoop of sunwarrior + Tbs. of Peanut Flour + a couple tablespoons of water. All mixed together, top two rice cakes, and some jelly. Protein packed tastes like PB & J but much more protein.
Think thin bars I love for on the go. A little cheaper than quest bars, and pretty good stats.
Grilled chicken, green beans, peppers, and broccoli sautéed with some olive oil and lemon juice.
PWO meal of turkey burger, asparagus, and 1/2 sweet potato.
Of course I gotta show you the greens!
I made some pumpkin protein muffins instead of bars this week. These came out very, eh, moist? (That word…) Not sure how else to describe them : )
Topped with unsweetened shredded coconut for a little extra flavor.
And that's about it! Still eating around here even through all this madness. Gotta fuel my muscles. Especially since I started phase 3 of livefit yesterday. It's a killer! But that's an entirely different post.
Best thing you've eaten?
What are you craving right now?
Do you still find time to eat full meals while super busy or do you snack more?
Related posts: