Confession. I've been a total slacker lately on the food front.
My meals are pretty boring, and I have yet to take a picture of an entire days worth of meals. So, you're getting a peek into the past few days.
Hey, at least it's something, right? : )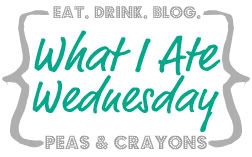 Head on over to
Jenn's
blog to join in!
Cinco de mayo called for avocado and black beans. Yum.
Went out to lunch one day and ordered a huge salad. The goat cheese and walnuts made it!
We got some crappy fish at the store called "Whiting," which I am NOT a fan of. We tried to get creative and marinate it in orange juice, some spices, peppers, and onions.
Eh, it was alright. The fish kind of freaked me out though, haha.
Greek yogurt and protein bars.
Top sirloin is perfect for after the gym! As you can see I'm getting through that bag of broccoli nicely.
Of course cottage cheese with almond butter. My favorite.
This morning I tried something new.
The oat-less oat bran! I've seen this on Tina's blog before and a couple other places and was pretty skeptical.
I found this other recipe on this blog for a chocolate version and figured I'd try it out. I do not have flaxseeds though and wasn't sure what I could substitute it for.
I ended up just using 2 tbs. of cottage cheese. The verdict? It was good. But not like oatmeal at all. More like a pudding!
It's a good way for me to eat my egg whites though because a lot of times egg whites gross me out if they are plain. And anything chocolate + almond butter is a good combo.
Do you use flaxseeds? In what?
Have you tried the "oat-less" oats?
What is one food that you absolutely HATE?
I despise mayonnaise. It freaks me out.
Related posts:
Not So Overnight Oats I'm sure anyone who has never had overnight oats before...