Hello and happy Wednesday! For me, that means I'm leaving for my mini vacay tomorrow.
For some of you, that means it's halfway to the weekend, woohoo!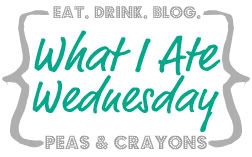 Of course Wednesday always means WIAW. So lets see what I've been eating over the course of the week and weekend.
Make sure to head over to Jenn's to join in : )
Grilled chicken, baked eggplant (yum!), tomato slices.
Not kidding the best salad of my life.
I "crusted" the tilapia in unsweetened shredded coconut flakes and then pan fried it in coconut oil. Delicious!
Sorry awful picture, but plain old oatmeal with peanut butter.
Grilled chicken, black beans and rice, salad. <—This is what happens when you're running out of food before leaving for a trip.
Delicious protein smoothie. Almond milk, a small peach, 1/2 banana, and not sure what else haha.
Egg scramble with spinach, tomatoes, avocado.
The most random meal ever created. Sweet potato, chickpeas, there is some broccoli slaw and cauliflower under there, a fried egg, goat cheese. It was pretty good.
I also had this protein bar on the go one day, it was pretty good! I found it at whole foods.
What is the most random, but delicious, meal you've ever had?
Any new products you've found lately?
Related posts: