First of all, I wanted to thank you all, as usual, for all your awesome comments on my stomach update. You are all SO helpful and it feels good to know that I'm not alone!
So for today's WIAW, I wanted to show what I had on vacation. And as you all know, I introduced gluten back into my diet and was fine!
It felt great to not have to worry about everything that I put into my mouth. I definitely enjoyed myself this weekend with a nice little balance of healthy, unhealthy, and listening to my body. That's the way to go! ; )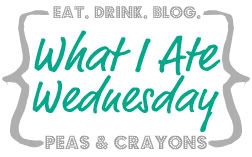 It's always hard to stay healthy while traveling, but I did a pretty good job with some treats thrown in as well.
Head on over to Jenn's to check out all the other great WIAW posts.
The first day I showed you all my eats here when we were on the way to Gainesville.
Day 2:
This was orientation day. Breakfast was served at the college, and there was NOT much to choose from. A lot of pastries and scary looking eggs, so I rolled with half a bagel (first bite of gluten!) and some yogurt with fruit.
For lunch we had Subway and I had half a turkey and ham sub, forgot to take a picture. I was fine after both of those meals which clearly had gluten in them. Yay!
For dinner, we went to Bonefish Grill and I had a piece of bread as an appetizer, and the grouper with some sort of mango sauce. Delicious!
Day 3:
We woke up the next morning ready to hit the road again to Fernandina Beach. My brother was already on his way, so we had no time to workout!
We hit up Panera instead : P I got the power breakfast sandwich and a coffee. I love their coffee. I also had half of my moms fruit cup.
For lunch, we went downtown Fernandina and stopped at the first restaurant we saw. On the bottom left corner, we had fried crab nuggets. These were so yummy! They were like crab cakes, soft on the inside, and fried on the outside. I also had a shrimp salad which was just okay, the fried balls were better haha.
Later that day, my brother was finally with us! Luckily we had a kitchen so we picked up a few things at the store. We cracked open some wine, obviously, and made a nice meal.
Sweet potato, broccoli, and salmon. My mom and brother had steak too, but I had steak the other day so I stuck with the salmon! Dessert was included as well, yum.
Day 4:
The next morning I had yogurt with some fruit and raisins with coffee waiting for my family to wake up. After my rollerblading workout, we had turkey sandwiches on a bun.
Later that night, we made turkey burgers and a salad. I had cottage cheese before bed as a nighttime snack (what else is new).
Day 5:
Last day, hitting the road again! Before we hit the road home, we made eggs with spinach and a turkey burger. Weird for 7:30 in the morning, but it worked.
We stopped at olive garden for lunch because we felt we deserved a nice meal after my moms broken wrist and the tropical storm! I had a salad and half a breadstick, and ordered the apricot chicken meal. So delicious.
Do you eat out all the time while on vacation?
What is your most memorable vacation?
What is your favorite dessert?
Related posts:
WIAW Vacation Edition! Hello everyone! Sorry I was MIA yesterday, I have a...