Hello and happy Wednesday! Is this week dragging, or is it just me? Sheesh, I swear I thought it was Friday every since I woke up Monday. Maybe it's the fact that I have like three exams this week, but I seriously cannot wait for the weekend.
Thankfully, we have this little WIAW party to distract me in the mean time
I am the queen of procrastination.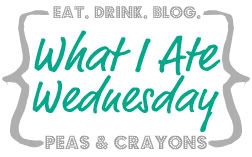 I have been taking pictures here and there of my meals, but nothing throughout one full day. So, I've compiled a bunch of crappy iPhone pictures over the past few days or so to share. I really need to start whipping out my real camera more…
Lets see what I've got!
Random dinner of tilapia, cucumbers, spaghetti squash, spinach, carrots, and nutritional yeast. It actually worked really well together! Oh, and I top literally everything with nooch. It's a problem.
Oh yes. I've been loving yogurt bowls again – plain Greek yogurt with blueberries, Ezekiel Almond cereal, and almond butter. Yummm.
Turkey burger, butternut squash, sweet potato and peanut butter, cucumbers.
Still loving this stuff… Can't get enough!
Some more tilapia, broccoli, cucumbers, sweet potato, and nut butter.
Eggs with spinach and ketchup, Ezekiel cinnamon toast, and sweet potato with coconut oil and cinnamon. Apparently I'm loving sweet potato haha. And yes, that is two sources of carbs in one meal. Carbs = muscles! Do not fear them, please!
Another reason you shouldn't fear the carbs…. oatmeal. A cup of dry oats, almond milk, stevia, cinnamon, egg whites, and topped with melty coconut peanut butter. Never gets old
Random power bowl where all the veggies are hiding under the chicken. Green beans, wilted spinach, carrots, hemp seeds, nutritional yeast, chicken, and coconut aminos! My favorite mix lately.
Random snack plate of homemade protein bars, some topped with almond butter. They are pretty low-calorie, so I needed more than usual to get my calories in for that meal ha.
Those muffins are little b's cinnamon apple protein muffins and they are delicious!
And last but not least, I still have my egg white/cinnamon/stevia omelet topped with almond butter every night before bed. My muscles need to be fed even before going to sleep – protein and healthy fats. Sorry this look like poop.
Do you eat anything before bed?
What is something that you eat every single day no matter what?
Related posts: